Well, I've got GREAT news! Thank you so much for your prayers! God is so good!
We just got home from the High Risk Dr.'s office and my baby boy has no other signs that would even remotely indicate Edwards Syndrome (Trisomy 18). His little cyst was so tiny, it took the U/S tech AND the doctor 45 minutes just to find it! He said he sees this all the time and in his many years of practice, he has NEVER come across a case where a cyst like this has not resolved on it's own before birth. My regular doctor told me the same thing, so I'm feeling really good right now :) It was so funny, during the U/S, the doctor started laughing and pointed out that my baby boy was "playing" with his "boy parts"! It was great!
Here is my son telling me he loves me! The first one is his profile and the second one is of him signing to me!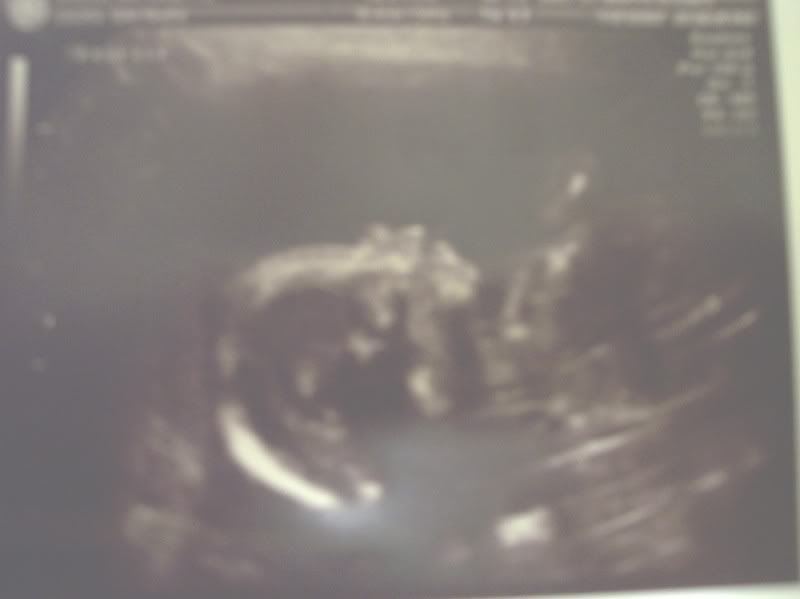 Eddie and I felt so great afterwards, we started our registry at Babies R Us. Thinking that it wouldn't take us very long, we only had an hour, but had to leave to go get Alex from daycare, so our registry only has like 10 things on it! The bright side is, we picked out the crib set and accessories (which is what I was stressing the most about). I love pirates (which was my original theme), but the only pirate crib set I could find was too busy and just wouldn't look right in his room. So, looks like we are going with sail boats! Here is what it looks like...
My next appointment is Dec. 19th, although no ultrasound will take place. The next Ultrasound is on January 8th, which is when they will hopefully confirm the cyst has gone away.