It's been about a week since I have been able to blog! I've been crazy busy!
St. Louis was "OK" at best. There was a huge metal arch...."Gateway to the West"...woohoo. I took a picture from my hotel room for you....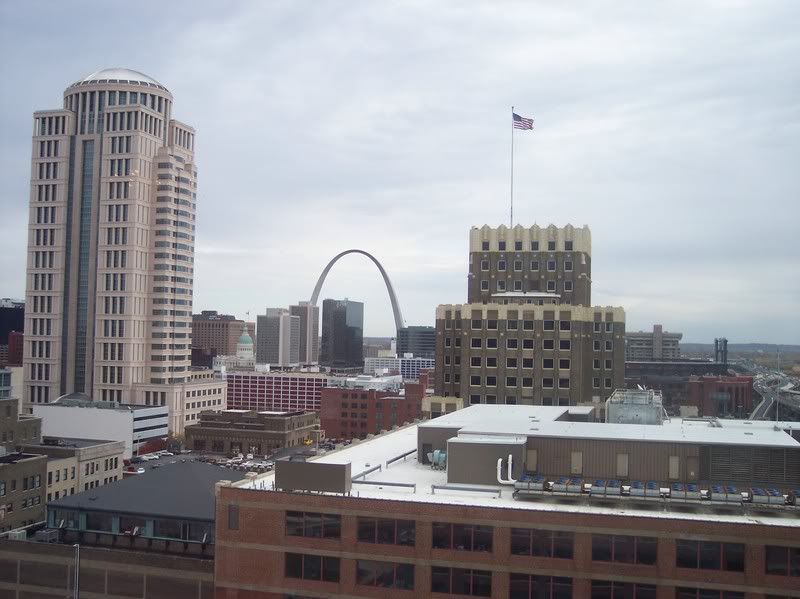 As soon as I got back it was catch-up time at work and next thing you know....here it is...Saturday! I want Wednesday to get here sooooo bad! Not only is it the last day of work before Thanksgiving, but it is when we find out if we are having a boy or girl - Providing the baby cooperates :)
If we find out, we will register on the Monday after Thanksgiving. It's pretty much the only day I can do it! I am not even going to try to register on a weekend or weeknight during the holidays!
Also, I have this killer recipe for the best, spicy fall cookies you will ever have. Seriously, if loving these cookies are wrong, I DON'T WANNA BE RIGHT! Aside from my sweet skills of capturing these little morsels on my camera, I have posted the recipe for them. If you have any spare time at all and you want a little bit of heaven here on earth.....trust me....try them!!!!
CHOCOLATE-GINGERBREAD HUGS
3 squares (1 oz. each) bittersweet or semisweet chocolate (I used semisweet)
2 Tbsp unsalted stick butter
1 box/bag mixture of Betty Crocker gingerbread cookie mix
1 Tbsp all-purpose flour
1/4 cup granulated sugar
1/4 cup hot water
30 Hershey's Hugs, unwrapped
1. Heat oven 375 degrees. Melt chocolate and butter in microwave (usually about 2 mins.) Stir until blended and smooth.
2. Stir gingerbread mix, chocolate mixture, flour and hot water in large bowl with a rubber spatula until blended.
3. Put sugar in a small bowl. With floured hands, shape dough into small balls (about 1 inch), roll in sugar and place on cookie sheet.
4. Bake 10 minutes (until tops crack slighly but are still soft to the touch.
5. Place baking sheet on a wire rack. Immediately press a Hug in center of each cookie. Transfer cookies from baking sheet to rack to cool completely.
ENJOY!