Well, today I go to the High Risk dr. to see if there are any other indicators of Trisomy 18. As I was looking over his beautiful ultrasound pictures from Friday's appt., I noticed his hand was in the "I love you" position. You know ..... the pointer and middle finger down. I thought that was really sweet and everytime I look at it I cry. As soon as I set up my scanner, I'll scan it and post it. That same picture has also brought lots of stress to me. When the baby's hand is in that position, that could also be another indication of Trisomy 18. Gosh....just please pray for my little guy. I can't sleep, eat or concentrate on anything. I've never prayed so much in my life! My appt. today is at 2:30, so I'm trying to keep myself busy. I have off today, so I'll be cleaning up the house from this weekends Christmas decorating.
I found this old train set that I bought at a yard sale last year for $1. Eddie wanted to put it together. Now I know why it was $1. Most of the train is broken and some of the rail was missing. Eddie wanted to put it together anyways and he is REALLY proud of it. Isn't it a hoot?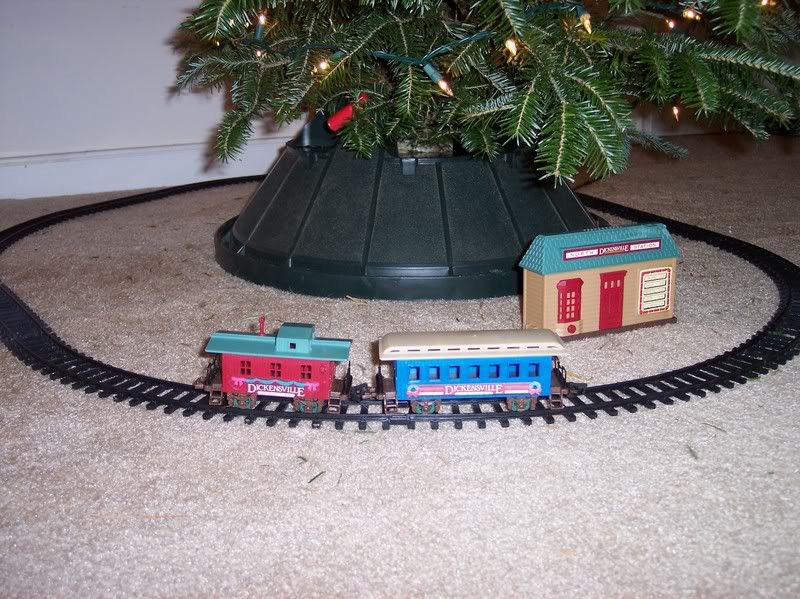 For those of you who don't have kids, well, enjoy your Martha Stewart Christmas tree while you can! Ours is a little better this year than in years past. I tried to get away with all white lights this year, but Alex really wanted the liquid bubble lights on there! She also helped decorate! Not too bad, actaully.....
Also, for Thanksgiving, (actually, the day after Thanksgiving) we were in Lynchburg, so the ENTIRE family (had to take 2 cars) went up to LU to visit Jerry Falwell's gravesite. I don't think it's 100% done yet, but you can tell it will be beautiful when it's finished. He has done so much for little 'ole Lynchburg and for so many people across the world. One can only hope that we can all leave some sort of amazing mark on this world when we leave.
I'll keep you posted after the appt. If all goes well, we will be registering at stores afterwards. We were supposed to do that this morning, but we didn't want to register, then find out bad news. Keep the prayers coming......