Well, I knew I was in for a treat when I saw that Donna had me! And let me tell you, this girl hooked me UP!!!!!
Before I get to the pictures, I just want to say thank you to Donna for putting so much time and effort into this! From the little note to the packaging to remembering my family members, you did a fantastic job!
Okay, onto the good stuff!
The note included breaks everything down:
F-
Enjoy some Fall time
F

lavor
in your home this season. (the cider)
A
- Here is a cute Fall
A

ccent
piece for your mantle this month. Trick or Treat! (the Trick or Treat banner)
L
- These
L

ittle
pumpkins are perfect for Rivera mealtimes in the Fall. They'll add some spice to your dinner table. (pumpkin salt and pepper shakers)
L
- Another way to decorate the table this season-
L

eaf
placemats!
Look at how festive this packaging is!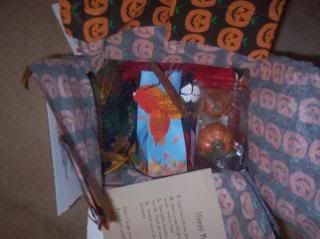 This is everything out of the package (except the banner)!
Pumpkin salt and pepper shakers, Leaf placemats (adorable!), cider mix (yummy!)
Socks for Alex, spoon & fork set for Aron and (this is my favorite)- a pumpkin whoopie cushion for Eddie! Lol!! It's like you already know him! He LOVES it!
Here is the banner proudly displayed on my mantle! It's beautiful and I've always wanted a banner! Where do you get these??! Does someone make them??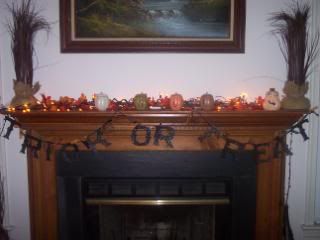 Here is Alex who could NOT wait to put on her socks! (gosh, she is getting so tall I can hardly fit her in the picture!) She wore them to her babysitting job tonight and was telling them that Donna got them for her ('cuz you know...they go waaay back! lol!--this kid cracks me up!)through her mom's blog swap. You can imagine the confused look I got when I tried explaining this to someone who doesn't blog!
Here is Aron saying "Yaaaaayyyy!" for his new spoon and fork set!
Sorry. No picks of Eddie and I. We had just gotten home from working out at the gym and were gross!!! But trust me, I LOVED it and so did my family! THANK YOU SO MUCH, DONNA!