Well, today I worked the "early shift" (7am-3pm) so that I could get out early and work with my daughter's Girl Scout troop. Today we made cookies and decorated them for when we go caroling at the nursing home next week. I hope the cookies keep for a week! Well, I get there late (which was planned) because school gets out at 2:15 and by the time I get there, all of the girls were good and "sugar'd up"! They were soooooo hyper!!!! I helped the other moms get them back to down to a somewhat quieter level, but holy cow! It was so crazy, I forgot to take pictures! I am so mad! I brought my camera and everything! Oh, well.
Tomorrow morning I'm going to this place called The Children's Orchard here in Richmond and they are having a "fill-a-bag" event. For only $5, you fill the bag with as many clothes as possible. Luckily, I am only shopping for my little guy, so I can REALLY cram those clothes in there!
So far, I've gotten some really great deals there. I kind of knew I was having a boy before we officially found out because his heartbeat was low. I know it's an old wives tale, but I took a chance and it worked out! Here are a couple of my favorites. Mind you, I didn't pay more than $4.00 for anything!
This was $2.00 - "Little Bear"! I can't wait to see him in it!
This is from The Children's Place. This was my big $4.00 "splurge"! I hope he doesn't look to "girly" in it. It's light green with peas on it! 5 Pieces all together, including a bib! Not a bad deal if I do say so myself :)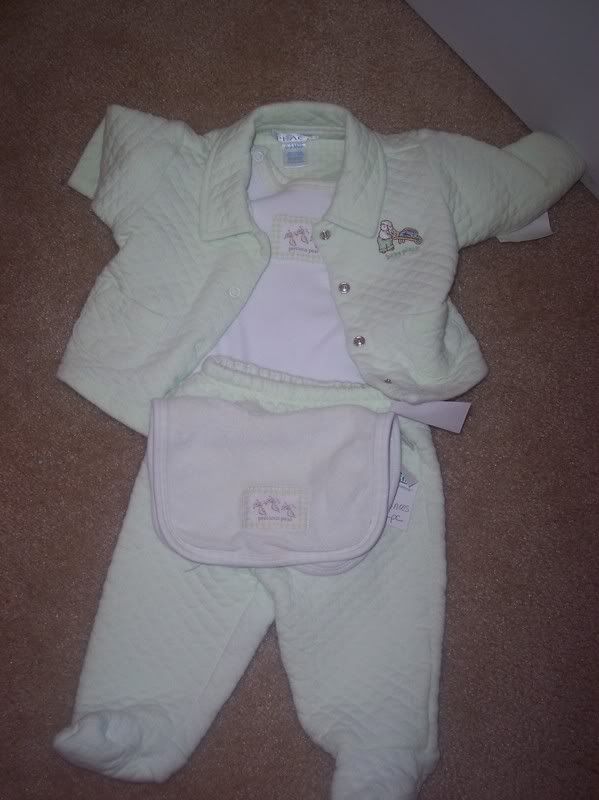 This is my collection of clothes for him up to today. I will definitely be growing tomorrow!