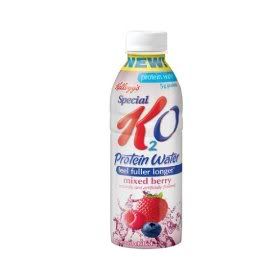 As I was perusing the diet section at Ukrops today, I noticed that their Special K2O Protein Water was on sale fro $1.15 (down from the regular $1.57). Not bad, right? Well, then I took a second look and saw that many of them had coupons attached to them for .55 cents off! Well, since today is super double coupons at Ukrops, I got $1.10 off each one, making them only .05 cents each!
Forget about looking at the John Rolfe YMCA, but all the other ones should have them! Hurry, hurry, hurry!!!!
This stuff is REALLY good and has 5 grams of dietary fiber, too!
YOU CAN ONLY GET THIS DEAL TODAY, ON SUPER DOUBLE COUPON DAY!