Let me start by saying, it is REALLY hard to celebrate Valentines Day when both parents work full-time! Also, since we still need all of our big items from our Baby Registry, we decided not to go all out this year on each other so we could save some money. Also, since it's virtually impossible to celebrate a Valentines dinner (finding a babysitter is impossible and neither one of us get home until after 6pm) we decided to have a romantic Valentines lunch! My sweet hubby came to my work and delivered my flowers himself. He knows I can't stand red roses, so he got me a beautiful assortment of all of my favorite flowers!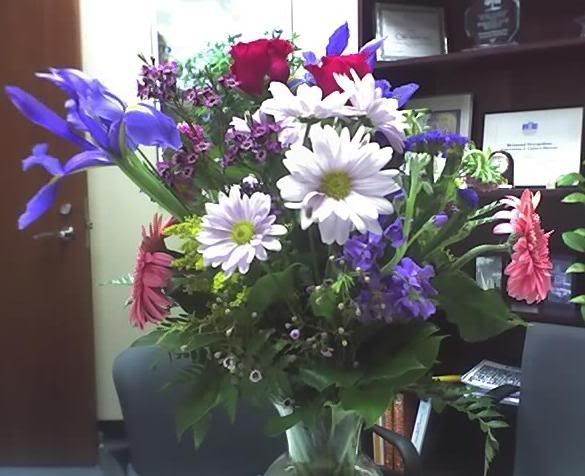 Then, we went to lunch at a really romantic restaurant here in town called
Chez Foushee
a For Eddie, I had ordered some chocolate covered strawberries from the Godiva Chocolates store, so I picked those up yesterday and I bought a really nice frame and put one of my maternity pictures in it for him. We also don't believe in having to buy a $5.00 card with words in it that neither of us wrote that is only going to get trashed anyways. So, I made him a card and listed the "Top Ten Things I love About You" in it. Then, Eddie got Alex a gift bag with some cute Valentines socks, hot pink cotton tights, Valentine M&M's and two headbands.
Alex made Eddie and I cards too. They were so cute! Definitely a keeper!
Well, TGIF!! I have off on Monday for Presidents Day!!! YAY!!!!!!