Happy Saint Patrick's Day, Y'all!!!!!
Well, the little leprechauns came and visited us last night and caused a bit of choas. They always leave little green foot prints everywhere and the pot of gold was what you see here: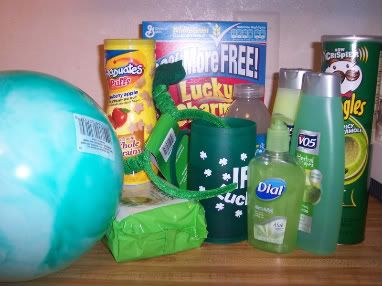 Then, I made Alex some green eggs. She wanted to have a "side" of ham, but we didn't have any. I know the eggs look like broccoli. She likes to cut up her eggs into tiny pieces. Don't ask why.
Traditionally, our St. Patrick's Day dinner consists of corned beef and cabbage, but corned beef is REALLY fattening, so, we are opting for a low-fat version of Fish and Chips! Some baked tilapia with home made mashed potatoes (colored green, of course!)
I have a TON of running around today, but I'll definitely post later what kind of cupcake I opted for and post my critique for it!