This past weekend was the West End Assembly of God (aka WEAG) consignment sale! Like many others, I volunteered for this sale so that I could shop the early volunteer sale.
I got there an hour early and there was already about 20 people in front of me! This is just the volunteer sale! By the time the doors opened, there was about 100 or so people behind me! This sale is H-U-G-E!
I found a lot of great deals, but I think the fall/winter sale is much better. I'm not sure why. I guess parents try to get rid of everything before Christmas to make room for the new stuff.
Since my son LOVES Thomas the Tank Engine, here are some cute finds: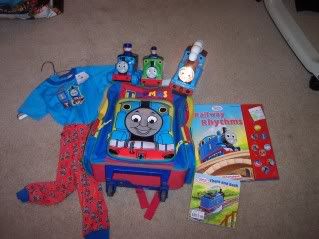 I also found some really cute clothes. Sleeveless rompers are so 'presh!
On Saturday, I had to work at the Y from 8:15-11:15, then off to volunteer at the sale, then bring Alex to her first softball game of the season, then off to JC Penney's to get her a dress for the Girl Scouts Father/Daughter dance. Go back to the game, pick her up, bring her home, get her ready and off she and Eddie went to the dance. Whew!!!!
I will post some pictures of the dance later, but they had a great time.
On Sunday, our church is starting a great ministry for kids. They can sign up to be on different teams (drama, dance, STOMP, Human Video). Alex wanted to be on the dance team. This reminds me so much of TRBC growing up and being on ministry teams.
They practice at church 12:30-3:00 and then throughout the year, they will be going to various nursing homes...etc. and performing.
I can't wait for her to enter the middle school ministry. They have some GREAT programs for kids, too!