I decided to "pimp" my blog a bit! Hope you like!
This weekend Alex went with her Girl Scout troop to Great Wolf Lodge in Williamsburg. She is SO tired! She went to bed at 7:30 tonight! Incredible! Those girls must have gotten NO sleep!
I am tired as well. I am working a double shift tomorrow, which will make it a full 6 hour work day for me. This should be interesting!
Trader Joe's opens this Friday and I am extremely excited!
Speaking of excited, I went to the biggest consignment sale here in Richmond this past Saturday. I thought I would outsmart the crowd and get there 30 minutes before it opened. Looks like I wasn't the only one thinking. This was the line IN FRONT of me going in.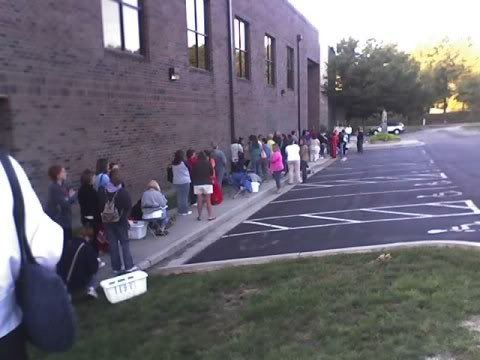 By the time 8 o'clock rolled around, this is what it looked like behind me. That's not the end of the line, by the way. It curves around to the left. It was insane to say the least.
I got some GREAT deals! I found this gem for only $3.50! It plays music and is so much fun! I can't wait until Aron is old enough to play with it! Can we say Christmas present??
I also got a ton of books (for both Alex and Aron), a cool playdough set for Alex (only .50 cents!) pajamas, toys, bathtub toys, pack of 6 bibs, a Classic Pooh jack in the box, bag of brand new socks and a Baby Einstein dvd. My total for everything? $18.75! Cha-Ching!
Oh, and by the way, be sure to catch The Rachael Ray show tomorrow because John & Cindy McCain will be on there!