So, St. Patty's Day is KIND OF A BIG DEAL at our house. It never really was a big deal growing up, but ever since Alex was 2 years old and was at this really great
daycare
here in Richmond, they made a big deal out of it, so we have just kind of carried on the tradition. It all started when the little ones would go out for recess and they would come back in and there were green "foot prints" all over the place and little treats every where and chairs were upside down and things were just kind of all out of place. Alex just thought this was the coolest thing, so ever since then, we have done something similar every year.
What I do is get a green St. Patty's hat and fill it with some St. Patty's goodies. Then, I cut out little green feet and start at her door and have the foot prints lead to her room. The foot prints go from her room, into the living room, on the wall, on the sofa, on the coffee table and to her goodie hat! Those crazy leprechauns also make Alex a card and write on it what a good girl she has been and to have a LUCKY day!
We also start the day with Lucky Charms (Which is a total treat because we never have sugary cereal in our house) and for dinner, it's corned beef and cabbage and dessert is chocolate chip mint ice cream!
Here are pics from this morning:
Wake up Alex!!! It's St. Patrick's Day!!!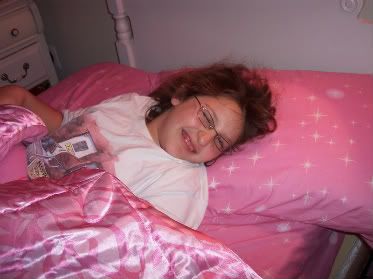 Here are just the beginnings of the footprints (notice the card by her door, too):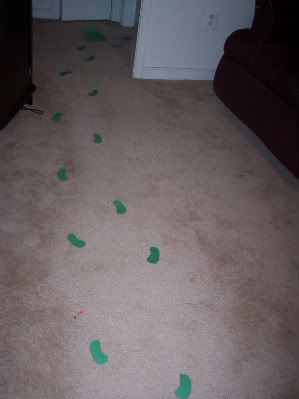 Alex's goodie hat!:
LUCKY CHARMS!: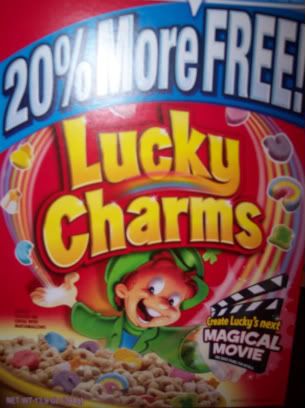 I'm sure you asking yourself "Now, HOW old is Alex??" I know, I know, she's 10 years old...enough with Santa, Leprechauns and Easter Bunny! But I can't help it! It's so much fun!