Ok, as you know, my expertise in babies is solely with girls.
As I am learning, boys will be a completely different experience. I'm most freaked out about the "sprinkler" A.K.A. changing a boy's diaper and having him shower you (and himself) in the process. I know, there are a ton of other things to be freaked out about, but this one just
really
does it for me!
So, this weekend, we picked up this great little gadget! It's called the "Wee Block". Eddie thought it's just for taking pictures, which you can totally do, but it does actually serve a purpose! The one we purchased is navy blue and says "Tinkle Tinkle Little Star" on it! I LOVE IT!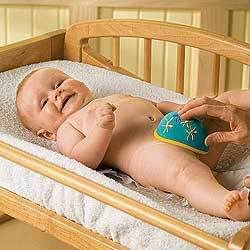 We also picked up the bedding set and the video baby monitor I wanted. So, basically, we are done! This weekend will just be cleaning up the nursery and things like that. I did two loads of just the baby's laundry and I'm STILL not done washing all of his clothes. This kid has more clothes than I do!
I'll take some pictures this weekend to show off my progress.