Today Aron had his 6 month check up. He now officially weighs 21.10 pounds! I was also surprised to find out he has pink eye! I didn't even know he had it! His eye isn't pink or red, but he has had some gunky stuff....ugh....just another day in my wonderful life!
The weather was sooooo nice out today, I had all of the windows open and I wanted to serve something cold for dinner (sounds yummy, right? j/k). But really, I just LOVE this time of year!
When I would travel everywhere, I had many different versions of Gazpacho soup. This is a vegetable soup that is served cold. It is realllly good! Well, I decided to make my own today and it is DELICIOUS! I will definitely be making it again! I tailored it more to fit my taste (and time)- I bought store cooked shrimp and used that. Here is a picture my creation and the recipe is below.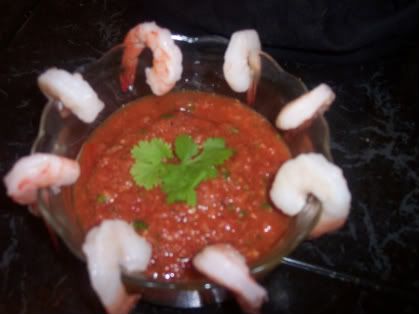 This recipe is actually a Rachael Ray recipe, so I really can't take credit for it!
1/4 English cucumber, peeled and coarsely chopped
1 small red onion, coarsely chopped
1 7-ounce jar Piquillo peppers in water (I didn't use these)
1 jalapeño pepper, cut lengthwise and seeded
1 clove garlic, coarsely chopped
A splash of tomato or vegetable juice
1 28-ounce can diced fire-roasted tomatoes
1 slice white bread, crusts trimmed and torn into large pieces
1 handful cilantro leaves, removed from stems
Salt and ground black pepper
Hot sauce, to taste
Zest and juice of 3 limes, divided
1 pound large to jumbo shrimp
1 tablespoon EVOO – Extra Virgin Olive Oil, plus extra for drizzling
1 tablespoon smoked sweet paprika (I didn't use this)
In a food processor, add the cucumber, onion, peppers, garlic and juice to the processor bowl and pulse until roughly chopped. Add the tomatoes, torn bread, cilantro, salt and pepper, a few dashes of hot sauce, and the juice of 2 limes. Pulse just a few times, not to grind it up too much, but just so it is a nice chunky consistency. Refrigerate until ready to serve.
In a large bowl, toss shrimp with a drizzle of EVOO, sweet smoked paprika, lime zest, a few dashes of hot sauce, salt and ground black pepper. In a large skillet over medium-high heat, add 1 tablespoon EVOO, about 1 turn of the pan. When the oil is hot, sauté the shrimp until cooked through, about 1 minute on each side. When the shrimp are finished cooking, turn the heat off and add the juice of 1 lime. Toss to coat.
Serve the Fire-Roasted Gazpacho in a shallow bowl with the shrimp on top.
I also garnished with cilantro!