Wooohooo!!!!! My blogswap gift game today!!!! Could the post office have been ANY slower in getting this package to me??!
Angela
had me and she sent it on December
3rd and today is the 10th! I have been waiting and waiting and waiting! Every day I hear the mail truck pull up and I would go to look out my window to see if they would be delivering a box to my door. Well......today it FINALLY happened!!!! I'm SOOOOO excited!!!!!
I'm not certain, but I'm pretty sure my mail lady thinks I'm crazy. Hand over that box, woman!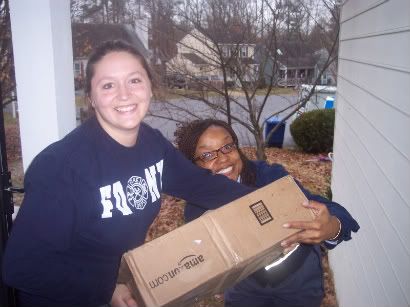 This girl went ALL out!!! First off, I have known Angela since we were about 10 years old or so. I remember the first time I met her, we played Hungry Hungry Hippo's and we were acting really loud and crazy! I was SO glad there was someone else out there that enjoyed my quirky humor (other than me, of course)! We went to school together, cheered together...I could go ON and ON..... Anyhow, my point is that it is really special to me that I was chosen as the recipient of her swap!
Thank you so much Angela!
Now, onto the goods:
As soon as I got my package in the house, I plopped on the floor and ripped it open!
First, check out that packaging!
The first thing I grabbed were these babies! I LOVE me some Ande's Candies!!! I love using these to make
these
cookies!
Next, I saw this beautifully wrapped candle that smells like Christmas Cookies! It's already lit and the aroma of cookies are in the air!!!
Next, I grabbed this. I didn't want to unwrap it, but I'm glad I did! It was Mint 3 Musketeers!!! Yummy!!!!
Here we have some snowflake plates and napkins! Perfect for Christmas or winter parties!
A gift card to Starbucks (wonderfully wrapped, I might add!) and I LOVE Starbucks!
I used to subscribe to this magazine, but since I stopped working full-time, it was one of the things we had to cut back on, so I am SO glad to have it! I think I'll take this up to Starbucks tomorrow while I drink my Peppermint Latte!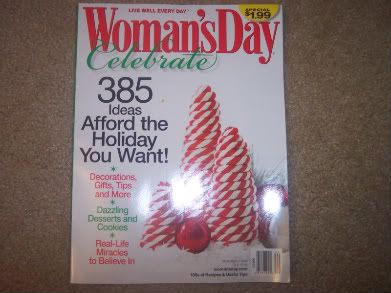 Now that the cold weather is approaching, I'll be needing these! They are so soft and pretty!
And last but not least, a warm, red, fuzzy blanket to snuggle in next to my fireplace!
Thank you SO VERY MUCH,
Angela
! You are awesome!