I just love Christmas lights! The other night, we had the privilege of visiting Lewis Ginter Botanical Garden's "Festival of Lights". For those of you not familiar with Lewis Ginter, it is the largest Botanical Gardens on the east coast! Every year, they decorate ALL of the gardens with extravagent lights! This year, Alex's class made ornaments for one of the trees there. The theme for their class tree was "Garden Gnomes". Each child molded a gnome out of clay and painted it.
Here is the tree. Notice the "topper" (It was the best picture I could get! That place was CROWDED!)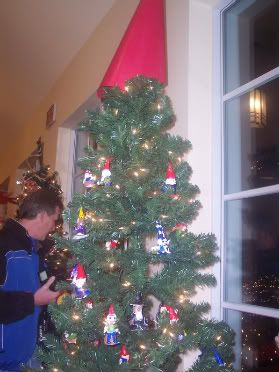 Here is a close up of the "gnome" Alex made....isn't it....um...beautiful!!??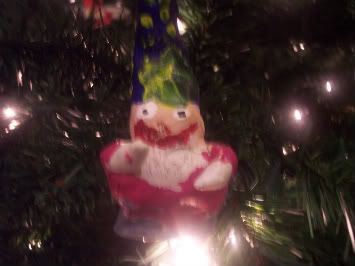 Here is the proud owner of said ornament:
Now, each year the gardens have a theme for their lights. Last year it was fish (I think) and this year it's.......SPIDERS!!! Ugghhh...they couldn't have chosen ANYTHING ELSE??!!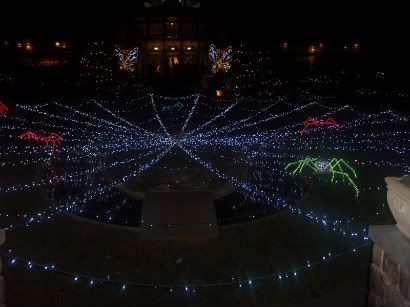 Those spiders were everywhere! Finally, we took shelter in the greenhouse, where I spotted this beauty! I love it!!!! I think I'll do this theme on my tree next year!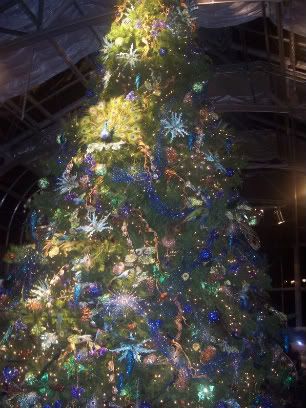 Also, this has nothing to do with this post, but Aron is cracking me up! He LOVES the camera! He was falling asleep in his high chair and my camera makes a little noise before it actually takes the picture and as SOON as he heard it he woke up and flashed a VERY sleepy smile!!! Ha! Ha! Ha!