I have just been busy, busy, busy! My
savings blog
is just so much fun! I'm so addicted!
On the homefront- I can't believe Aron is 14 months old already!! Where in the world does the time go?! Wasn't I JUST pregnant with him??!
He is walking now. Which is "fun". This is ALL he ever wants to do!!
Well, he also LOVES to snuggle with mommy! I LOVE IT! Alex was never a big snuggler, so I am just eating it up!
He learned how to give kisses, so of course we captured it on camera!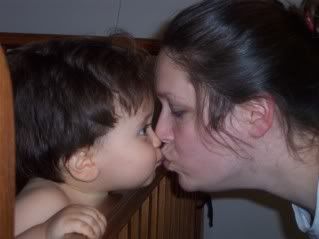 And, here is a picture of my BIG boy! He was fresh out of the bath in this picture (no, I don't just let him run around the house all day in his diaper!)
Also, I am...er...I mean Alex is preparing for middle school this September!
We have a summer choc-ful-of business! Alex is going to Camp Hydaway for the last year :( She is also going to our church camp and to Girl Scout camp. Very sad. Her last summer as a "kid".
I'll be updating more frequently on here. I've gotten really bad about that lately!